Welcome to Pueblo Suizo's site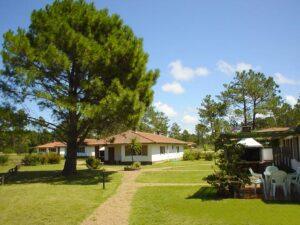 A new touristic and business destination in "Costa de Oro" (Golden Coast) which offers the comfort and privacy of a bungalow with the service of a hotel and one of the best possible choice regarding best quality meals, just 50 minutes away from Montevideo.
All bungalows are equipped with one or two bedrooms, with queen-size bed and twin beds, and a TV room with 2 sleeping sofa, dining room set, telephone and LCD TV 32" with national channels and DIRECTV (CNN, ESPN, etc…), air condition warm/cold, WiFi, safe.
The kitchen is fully equipped, with silver wear, glasses, set of pots and pans, microwave, refrigerator and freezer. They all also have a fireplace, patio furniture and BBQ, including the firewood and cleaning service.
Complete breakfast is include in our rates, and also daily maid service, sheet and towels, swimming pool towels, access to the heated pool and Jacuzzi, and those facilities are for the exclusive use of our guests at Pueblo Suizo.
There is also the "Pueblo Suizo Pizza and Restaurant", that includes a mini-market, bar, pizzeria, and restaurant.
As guest of Pueblo Suizo you will also enjoy a relaxed and natural atmosphere, and with our attention and service we can guaranty your total relaxation and joy.
Our menu offers traditional Swiss and German cuisine, as well as international dishes of high level and of course some Uruguayan specialties.
Pueblo Suizo is a natural oasis facing the sea. The perfect place to meet again with your senses and nature and to enjoy with your family, colleagues and friends.