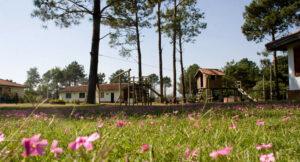 There was once a Swiss couple that decided to go on a trip to far away land to celebrate their 50th.Brithday, and visit at the same time their friends Heinz Stussi and Silvia Koller, who had arrived from Switzerland a year before, to acquire 30 acres of land, on the coast of Rio de la Plata, in Jaureguiberry.
During their stay, Hans and Hulda started the process of transferring their business, product of twnty years of work, to their son and his family. In this wey they get ready to immigrate to Uruguay.
In January 1997, the original project of what today is the touristic complex of Pueblo Suizo is born.
In those years, the land had nothing but a dense forest, without any roads, water, or electricity. During three long month hans and a young Uruguayan guy cleaned the area, full of pine trees and bushes, discovering little by everything what they owned. Meanwihle, the first access roads, electric line and drinking water wells were built.
In the middle of July 1997, the building of the first bungalow takes place, which was finished by December, the same year. Two other young Uruguayans were added to the working team, and in this way they were able to build two double bungalows the following year, and the shopping and laundry facilities as well.
In 1999 the heated enclosed swimming pool for children, Jacuzzi with hydro-massage and sliding board were built, and they became the heart of our complex. Our guests, acclaimed them especially by the little ones, so that pueblo Pueblo Suizo became a tourist destination for any time of the year.
In 202, two additional double bungalows were built, finalizizng our present housing facility, with a total of the bungalows, four of them with two bedrooms for six people, and six of them with one bedroom, for four people each one of theme.
Each year more improvements have been done to the park, like the recreation area for the children.
By then, the leasing of the bungalows was getting better day by day, and our guests asked for and suggested the construction of a mini market and the restaurant at the location, and this dream came true in 2001, with the arrival of Irene, Hans and Hulda's daughter, and her husband Jürger Reischert, both professionals in the hotel and restaurant business, and who also decided to try their luck in our Uruguay, taking charge now of the Pueblo Suizo Restaurant, where the information and reception are also located, allowing Pueblo Suizo to offer a high quality service all year round for the tourist and business guests.